Ava Otero and The Class of 2021's Gift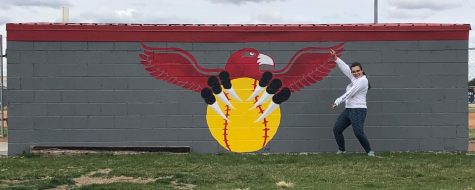 As members of the Canyon Ridge Student Council sat in the auditorium politely listening to each other's ideas, Ava Otero rose to speak. 
"I just wanted to talk briefly about the senior class gift that I'm in charge of." 
Suddenly, everyone listened to a little closer. "My classmates and I are painting a mural that spells out RIVERHAWKS where each letter will represent a club or activity." 
Student Council loved the gift idea and immediately wanted to know more, but many of the fine details haven't been worked out yet. No one questioned Otero's ability to work on the project though, as this won't be the first piece of artwork she's done in our school. Otero also painted the hawk on the side of the softball dugout. 
"It took me two days to complete and almost thirty hours of work. The weather was super cold and windy but I'm glad I did something that will be hereafter I'm gone." 
Otero began her obsession with art at just sixteen months old when she began to doodle on anything she could get her hands on. 
"Art is something I've just always been interested in."
Art continued in Otero's life as she moved through secondary school where she began attending classes and finding commonality with her peers. 
"My freshman year I took an art class with Macy Metzler where we began to draw our own cartoon characters and stories. It was the first time I had ever taken my art seriously." 
Although Otero has flourished within the art community at Canyon Ridge she is also frustrated with how the arts are valued through the school. 
"I've been preaching for years about the lack of representation of the arts in our school. The art department has some of the most hardworking, dedicated, and talented people you will ever meet. The music department has moved me to tears, the fight song gives me chills, and I've always regretted not joining our theatre department."
To combat this problem, she would like to see a local art exhibit or competition where each subgroup of the arts has a chance to present their talents. 
As Otero's senior year comes to a close she plans on majoring in psychology at the College of Southern Idaho before transferring to a four-year school. She still wants art to be part of her life though as a side job. 
"Art isn't just painting or sketching, it's something subjective and different for everyone to try."