Men's cheerleading increases in popularity
Canyon Ridge High School cheerleading has risen to a record number of male cheerleaders in the past year, causing "excitement" in the cheerleading community in Twin Falls.
Previous years of cheerleading at Canyon Ridge had lackluster male commitment, going from only 1 participant last year to 7 this year, according to James Bolton, one of the new male cheerleaders. However, this year things have taken a change in terms of participation.
According to Behdad Ahwazi, a senior who started cheerleading last summer, "We've had a record number of guys try out for cheerleading this year."
When asked about what caused the recent influx in men's cheer participation, Behdad said, "After [the wrestling team] found out what cheerleading really is, we got our other friends to come try it too. That's why there's [especially] a lot of wrestling boys on the team."
This uptick in male cheerleading has caused excitement that extends beyond our school and into other cheerleading organizations in our community.
Sejla Imamovic, a youth and tumbling coach for Idaho All-Star Cheer said, "I think it's really great that men are doing something out of their comfort zone. Doing cheer in general is really hard and people tend to stereotype it."
However, in years past, there have been some barriers that men have faced when joining cheerleading, such as being thought of as "girly" or "gay", according to Imamovic.
"A lot of people think that men doing cheer is wrong and give stigmatism against that. They put labels on the people that do it, when they are not true at all. They are just doing something they love, and I think that's amazing."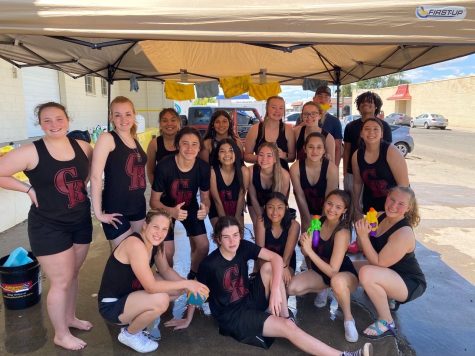 Cheerleading can be more than just a hobby for many people that participate in both high school and private cheerleading institutions.
For some, it can be "the gateway to a scholarship".
"There are many scholarships available [for male cheerleaders], and not many [male cheerleaders]," said Behdad.
After high school, male cheerleaders have "many routes besides just college", according to Imamovic.
"You can go into a national competition called NCA, which a lot of colleges also compete at."