CRHS marching band competes for the first time
The Canyon Ridge High School Marching Band attended their first competitions for the first time in Canyon Ridge history in the fall of 2022 in Kuna and Burley. 
Mrs. Elizabeth Thomsen runs the marching band, a group of 37 musicians who perform while marching at Canyon Ridge. The marching band did not win at Kuna and Burley, the two competitions they attended.
"Considering that this is our first year doing marching band, we did pretty well, even though we got last place. I honestly saw the competitions as a learning experience rather than an actual competition because we've never done this before," said Sarah Davis, a sophomore who plays the flute.
"This year is the first year I am finally at Canyon Ridge full-time, so I was able to actually start up the marching band and dedicate the time that it needs to have a successful season and to be competitive," explained Mrs. Thomsen. "As [the marching band] goes to different competitions and we get some feedback from different judges, they say 'well you could think about doing it this way or maybe change this up a little bit.'"
The marching band was created nine years ago by Mrs. Thomsen, who wanted "to find a way to set [herself] apart from what came before while still honoring the traditions" when Mr. Tad Hadley, the past band teacher at Canyon Ridge and Robert Stuart, retired. 
"We've always had a band that's been out on the field, but nine years ago was the first time we had a moving marching band. Everyone was really excited about that, and I was confused because marching means moving. They just didn't know that this was what it is," stated Mrs. Thomsen.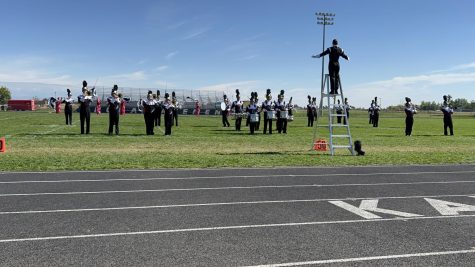 Mrs. Thomsen is in charge of recruiting and signing up students for the marching band. The students who signed up were excited about joining the marching band. 
"I was pretty excited when I joined the marching band because all of my siblings had done it before me, and they said they enjoyed it a lot. I was expecting it to be pretty hard, but a lot of fun. Memorizing the music while marching on beat in a certain pattern is actually pretty hard, but it was really fun and rewarding whenever we went to competitions," said Davis.
Due to the cancellation of multiple football games in the fall of 2022, the marching band didn't get the chance to show off what they had been working on all year. Mrs. Thomsen hopes to get the chance to be able to do so in the 2023-2024 school year. 
According to Sarah Davis and Xavier Winnett, a junior who plays the drums at Canyon Ridge, the marching band had a successful year and "learned a lot". They are "excited for what next year will bring." 
"The marching band will do at least three competitions next year and add a band camp to the schedule. In future years, it might be fun to travel and march in a big parade," said Mrs. Thomsen.