The increasing book challenges has renewed policies for challenges
People have had issues with many subjects for a long time now, though it seems that there has been a growing number of people challenging books across libraries in the nation. 
Nampa School district has had more books removed from shelves in Idaho than any other library in the state with 22 titles being removed off shelves for varying reasons such as books that go against religious beliefs and others that have some sort of sexual theme or violence.
There have been a growing number of book challenges nationwide, and although the request to remove books off shelves here in Twin Falls hasn't been an issue, the idea is still worrying to the Twin Falls Public Library. 
Tara Bartley, the Library Director for the Twin Falls Public Library explained, "I'm concerned that as more and more books get challenged and if the challenges go through and the titles are removed that it will be an infringement on our rights and then where does that stop?"
Mrs. Janie Johnson from the Canyon Ridge Library isn't afraid of the increase in book challenges around the nation because she seems intrigued as to why a book may be challenged. "I am curious as to why a book has been challenged. People challenge books based on their belief systems, and a belief in trying to do the right thing," said Mrs. Johnson.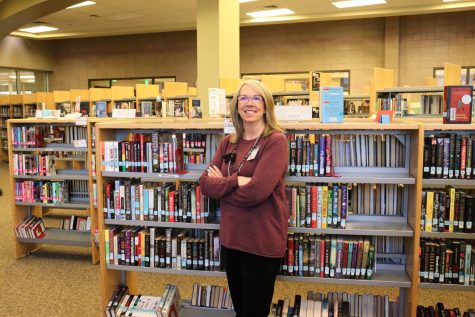 Both libraries hardly ever have book challenges. The Twin Falls Public Library might only get one or two challenges in a year by concerned parents, but more often than not the issue is the location. If it should be moved from the kids section to the young adults, or the genre of the book. On the other hand, the Canyon Ridge High School Library has received no challenges.
Policies for removing books off shelves include filing a formal complaint for both libraries. The libraries first require conversation to see if the books should be switched to another area for the general audience of the book, such as the public library moving the book from youth to young adult or the school libraries moving books from one age of school to the other. 
If someone wants a book completely removed, then a formal request of reconsideration would have to be filed, and the person would have to go to the library's board to delegate the issue.
To ensure there isn't much issue with books chosen, libraries follow the relatively same path of selection for what books to have in the libraries; people may request a book, then the library will look into the ratings of the book, how well it's written, and the author's history and presence.
"The materials that we put in the library are usually vetted by the librarians and so I do feel that what we're putting in here follow[s] our policy, and so I think our collection is good," said Mrs. Bartley.
With the Nampa School Districts' removal of titles, policies of book complaints have started to become updated to ensure no issue arises from such a situation such as the issue with the Nampa book bans.
"That's because they didn't have the process and procedures in place as well as they need to in the beginning of things and that's why it was also time for us to go through and make sure we're very clear in what our process and procedure is and the [school] board will direct that," said Mrs. Johnson.
Although there is discourse on what should and shouldn't be allowed in a library, the first step to taking action is conversation, "I choose not to live in fear of what might or might not happen. As an educated, experienced, professional, teacher librarian, I make the best decision I can," said Mrs. Johnson.
UPDATE 4/6: Governor Brad Little has recently vetoed a new bill, House Bill 314, which would accrue automatic fines of libraries for shelving "obscene and pornographic" material unsuitable for minors, a criteria Governor Little said was too vague and could be interrupted too broadly. The State Legislature can override the governor's veto.
UPDATE 4/7: The State Legislature failed to override Governor Little's veto of HB 314.