CRHS students work hard to donate money to families in need
Pennies for Possibilities is a fundraiser that raises money to help provide struggling families with gifts and supplies that they may need. It is typically done around the holidays which provides these families with a better Christmas. 
"It started in year one, when Canyon Ridge opened up and, Twin Falls High School and Canyon Ridge High School, split, and it was one of the main things we wanted to do to help benefit the school and the community," said Mr. Jeremy Belliston, the teacher who started Pennies for Possibilities and who has been teaching at Canyon Ridge since the first year it opened.
This idea stemmed from Twin Falls High School's tradition called Change for Change. It is also a Christmas program that helps raise money for reasons similar to Pennies for Possibilities. When the schools split, CRHS brought with it some of TFHS's traditions. "We met with the advisors over there and we kinda mirrored our program after theirs to raise money for the community, but tweaked it to fit our demographics over here," said Mr. Belliston.
After ten years, Mr. Belliston stopped running Pennies for Possibilities, and it was taken over by the Student council advisors.
This year, Pennies for possibilities started off slow as businesses have been facing some difficulties caused by recent pricing changes and issues left behind after COVID, but the fundraiser has been very successful, even after the rough start. "I think it's going pretty good. It was a little slow to get started… Businesses are still enduring some difficulties financially after COVID, and after all the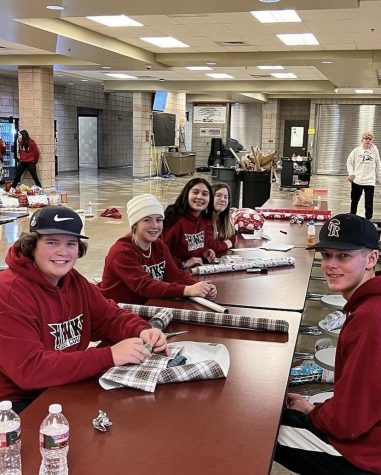 recession, and prices increasing, so we've had a lot of different responses from some businesses than we have had in the past. On the other side we've had bigger responses from some of the businesses. It's just been a little bit of a different feel, trying to get back into a normal process of receiving and giving," said a Student Council advisor, Mrs. Kristy Oberg. 
A major part of the contributions come from the students as well. Students do much of the work when it comes to the donations and being out in the community. "It's pretty darn close to fully student-led, where the teachers get involved as really just the accountability piece. The organization, the framework of it is probably teacher-led, but the kids are the ones doing the work," said Mrs. Oberg.
Not only do the students take a major part in the fundraiser, but they enjoy being a part of it as well. "I think students donate because they want to make an impact and some of these families that we donate to could be your classmate, or a friend, and it really makes an impact for them," said CRHS Student Body President, Kailie Wittrup.
"We even got Robert Stuart involved and they've raised a lot of money there. They have competitions going on at that school so I think it's helping to get more people involved," Wittrup said. 
The last day of the fundraiser, December 16, the last bits of money raised by the school was collected. The end total added up to $23,457.89. Fifteen families were helped with the money raised, thanks to all those who contributed.