CRHS Unified Sports Team recognized by Special Olympics, ESPN
For the last ten years, Canyon Ridge's Unified Sports Team has had one goal in mind: inclusivity and understanding between the athletes with disabilities and without. 
On Friday, April 21st, CRHS' Unified Sports Team was recognized by the Special Olympics and ESPN as a Top 5 school in the nation for inclusivity. Sportscenter's digital platform host, Skubie Mageza, emceed the assembly where CRHS' Unified sports participants played a basketball game in front of a raucous crowd and accepted awards from the Special Olympics and ESPN. 
As described by Laurie Hall, a special education teacher at Canyon Ridge, when special education students are a part of the Unified Sports Team, they feel more included and get to feel the camaraderie of their teammates and experience the crowd like any other sports team would. 
Gage Pierce, one of the Unified participants said that he felt, "confident about [the game]," and he "liked playing with [the] team." 
The Unified Sports Team plays games such as soccer and basketball and practices these games with peers during their P.E. classes.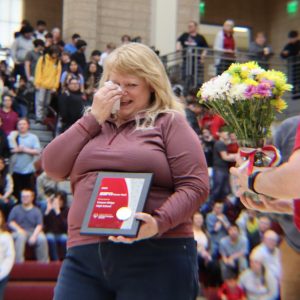 The team usually plays one soccer tournament, two basketball games at Canyon Ridge high school, and two at Twin Falls high school. The team then typically goes to Boise for state and Burley for regionals. 
To fund their team, the students fundraise. 
However, the team has faced some obstacles when it comes to getting other schools on board. Some schools are scared that special education students will get hurt. Other reasons include the lack of time and parent's not having time for the students to do an after-school activity. Mrs. Hall explains that the team tries to do as much as possible during school to manage these concerns.
Mrs. Hall is adamant that the team needs to play and get out in the community, saying, "How do we spread inclusivity if nobody sees it?" 
Mrs. Halls explained that the team is significant and exciting to the students and crucial to the culture at Canyon Ridge in the pursuit of inclusivity.