After the 2023 soccer season ended 8-2-2, the girls' team advanced to State for the second year in a row. For the second year in a row, they didn't win a game the whole duration of their stay in Caldwell.
After losing to Twin Falls in the District Finals, the girls' team faced off against the Mountain Home Tigers to qualify for State. After draining regulation time and both overtimes, the teams went into penalty kicks to decide who would punch their ticket to State. After over 100 minutes of soccer, Canyon Ridge walked away with a win after scoring five penalty kicks over Mountain Home's four. 
Regarding their State performance, Freshman Lilianna Hunter felt like "we were a little more separated at State, and we were getting frustrated with each other because of the unsatisfactory ending to our conference season."
The girls faced the Number One seed Pocatello in their first game at State. It was 0-0 at the half, and then the Thunder went on a run and ended up beating the Lady Riverhawks 5-0. 
Senior Cassie Conrad had a different take on the season and the losses at State. "I don't think anything went wrong. I think we had a super young team playing teams of juniors and seniors, considering we all had only played together for a season compared to other teams who have been playing together for years. Overall, I would say we actually did a pretty good job."
With an opportunity to advance to the consolation bracket finals, the Lady Riverhawks played Skyline who had lost to Number Four seed Sandpoint 2-0 in their first match. The Skyline Grizz would redeem themselves by beating the Riverhawks 2-1.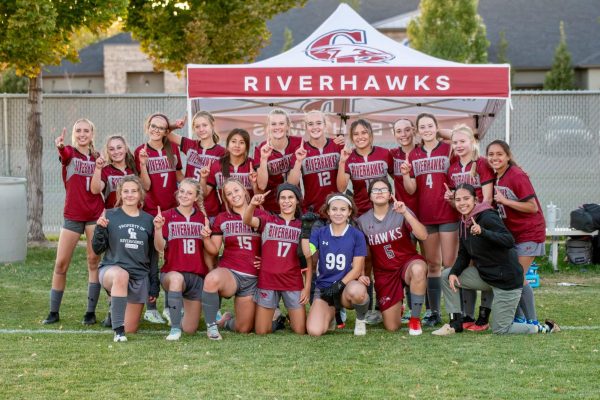 The entirety of the Canyon Ridge soccer program will be moving up to 6A in the 2024-2025 school year. They will join current powerhouses such as Boise and Highland. Girls Assistant Coach Charly Bartlett recognizes that it will be a difficult transition but said that "as long as everyone is on the same page and everyone is able to shift the way we talk about ourselves and the team," the team could potentially make it to State for the third year in a row.
Freshman Lilianna Hunter gave her perspective on the season, and what she thinks needs to change, "I just think we as a team need to be on the same page. Coaches can't play for us, and it's all up to us to play, win, and lose games. We make all the decisions in the game including the bad ones, so if we just stick together, we're going to be okay no matter if we're 4A, 5A, or 6A."